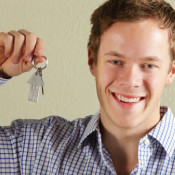 "Significant Gaps and Limitations" in NC's Transition to Community Living Initiative
North Carolina is four years into its eight-year plan to create a system of supports and services that will enable people with mental illness to live in their communities instead of in institutions. But the latest review of the State's progress finds it is way behind schedule.
In 2010, Disability Rights NC filed a complaint with the U.S. Department of Justice (DOJ) alleging that North Carolina was warehousing thousands of people with mental illness in adult care homes. These facilities, many with more than 100 residents, are designed to provide housing, meals, and medication management. Generally, they do not provide psychiatric care or treatment. The DOJ determined this practice was in violation of the Americans with Disabilities Act. In 2012, North Carolina and the DOJ signed a settlement agreement, and the State committed to moving 3,000 people with mental illness out of adult care homes and into community housing with supports by 2020. This process is known as the Transition to Community Living Initiative.
Every year, an independent reviewer assesses the State's progress in the eight-year plan. The latest report, which came out on October 1, has a few glimmers of good news. For example, North Carolina has improved its Supported Employment system so that more people with mental illness can have jobs in their communities.
But overall, reviewer Martha Knisley found that the State is far behind where it needs to be to meet its commitment. North Carolina missed its target of moving 1,166 people into housing by July 1, 2016. Furthermore, Knisley's report says, "There are significant gaps and limitations in the array, intensity and availability of community mental health services."
In short, North Carolina has not made adequate progress toward creating the system of housing, supports, and services necessary to allow people with mental illness to live in their communities. The incoming administration will have to play catch-up to meet the 2020 goals.

Client Story: Finding the Right Fit for Jordan
The attorneys of Disability Rights NC first met Jordan, a teenage boy with autism, at the end of 2015. His school in Lee County had put him on a homebound placement because of his aggressive behaviors—even though homebound placements were not designed to address behavior issues. Jordan had thrived at his previous school in Ohio, so his father knew that he could be successful with the right structure and supports. Jordan's father called us for help.
Our attorneys spent months trying to work with the school system, which refused to allow Jordan to return to school for the full school day. Instead, the school put him in a classroom (essentially, a closet) by himself with two teachers and allowed him to attend for only two hours a day.
As we continued the battle with the school, we recognized Jordan was at risk of being institutionalized if he didn't get Medicaid-funded services in his community. So our attorneys approached the LME/MCO, which manages behavioral health services, to get services for Jordan.

We pushed the LME/MCO to apply for an emergency Innovations Waiver for Jordan. North Carolina's waiting list for the Innovations Waiver has thousands of names, and the wait can be ten years or longer. But every year, there are a handful of emergency slots available. An emergency slot is hard to get because the need is much greater than the supply. Because Jordan was at risk of being institutionalized—and thanks to the advocacy and persistence of Disability Rights NC—he received one of those slots, opening the door to an array of important services.
Recognizing that Jordan needed more support and greater structure than he could get at home, the Disability Rights NC attorneys continued to put pressure on the LME/MCO until it found a spot in a quality group home that gives him opportunities to be part of his community. That placement is in Greensboro, which meant a new school for Jordan. The new school in Guilford County was supportive and happy to have Jordan, and he is now at a school that truly meets his needs.
As a result of the efforts of the attorneys of Disability Rights NC, Jordan is safe, is getting an education, and is participating in his community.

National Disability Rights Network Weighs in on Special Education Case
The National Disability Rights Network (NDRN), of which Disability Rights NC is a member, has filed an amicus brief in a U.S. Supreme Court case about special education. Endrew F. v. Douglas County School District involves a student with autism. His parents allege that the school district failed to provide their son with an appropriate education as guaranteed by the Individuals with Disabilities Education Act (IDEA).
The federal district court ruled that as long as the student was receiving "some" educational benefit, the school was satisfying the IDEA requirement. NDRN rejects that notion. In its brief, NDRN argues that, "a school district's educational interventions must seek to enable a child with a disability to meet the standards the district applies to all children, at least absent a specific justification tied to the unique needs of the child."
The case is set to be heard during the current session of the U.S. Supreme Court, but opening arguments have not yet been scheduled. We'll keep you updated.

Schools Often Wrong About Guardianship
Schools often tell parents of students with disabilities that they must pursue guardianship once a student turns 18. Guardianship is a severe restriction on a person's liberty, and it often is not necessary.
Disability Rights NC Policy Director Corye Dunn wrote about this issue for EducationNC. She explained that many school officials believe a parent must have guardianship in order to participate in educational decision-making for a student age 18 or older. But this is a misunderstanding of the law.
Under the Individuals with Disabilities Education Act (IDEA), students with disabilities have Individualized Education Programs (IEPs), which detail the supports that the school will provide to help the student learn and succeed. In addition, the IDEA allows many students with disabilities to stay in school beyond their 18th birthday.
The IDEA says that once a student reaches the age of 18, the right to all educational decision-making transfers to the student, unless the student has been determined to be incompetent. Many school officials interpret this to mean that a parent must have guardianship of a student in to participate in educational decision-making, particularly IEP meetings, after their child turns 18. This simply is not the case.
Needing assistance with educational decision-making is not an appropriate basis for a guardianship. In fact, all that is required is appropriate documentation of a student's consent to have the parent continue to participate in educational decision-making.
Read Corye's complete article here.

Click here for audio recordings of our newsletters, provided by Triangle Radio Reading Service.