Registration for 2017 Disability Advocacy Conference Now Open
Our 2017 Disability Advocacy Conference will be held on April 20, 2017 at the Friday Center in Chapel Hill. There will be 17 breakout sessions on a wide range of topics affecting people with disabilities, including:
Changes to the Innovations Waiver and Medicaid Appeals
Success in Higher Education and Employment
Children with Disabilities in the Child Welfare System
Appeals and Remedies in Special Education
Trends in Disability Law
Predictions for the 2017 Legislative Session
People with Disabilities and the Criminal Justice System
Alternatives to Guardianship
Register now to reserve your seat at the fourth annual conference.

See the full agenda, get details about hotel reservations, and learn more about sponsorship opportunities on our website.

FOR ATTORNEYS -- The NC State Bar has approved the conference for up to 4.5 hours of CLE credit, including 1.0 ethics CLE credit.

New Video and Guide on Innovations Waiver Changes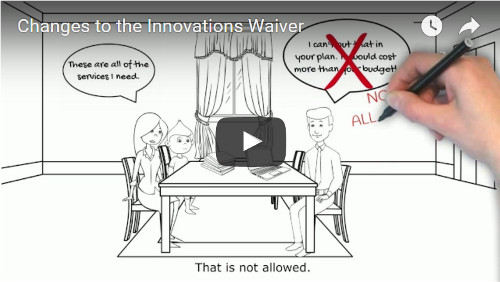 Many of you are concerned about the recent changes to the Innovations Waiver. We put together this short video about the new Base Budgets and how to assert your rights.
Our new guide provides extensive information about the Innovations Waiver changes. It includes information on:
How your Base Budget was created;
How you may be able to get your Base Budget changed; and
What to do if you do not agree with the Individual Support Plan your Care Coordinator created for you.
New Fact Sheet on IEP Implementation
Creating an Individualized Education Program (IEP) that meets the needs of a student with a disability can be a challenging process. That's why it can be so frustrating for parents when, after working hard to get a quality IEP for their student, they discover that the IEP is not being properly implemented.
There are numerous ways parents can resolve issues with IEP implementation. Sometimes, all it takes is an email to a teacher who is not providing the student with the accommodations laid out in the IEP. In other cases, it is necessary to bring in a facilitator or mediator to resolve the issues.
This fact sheet explains some of the ways parents and schools can resolve problems with IEP implementation. It also explains when compensatory education may be required to make up for the special education services the student did not receive.
Coming Up: Screenings of "Bottom Dollars" Documentary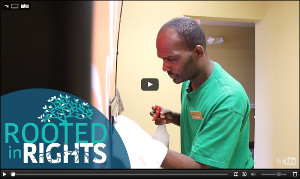 The Fair Labor Standards Act created the minimum wage, but it includes one huge exception. It allows businesses to pay people with disabilities less than minimum wage. The exception was created to encourage employers to hire people with disabilities, giving them the chance to work in and contribute to their communities.
Unfortunately, this provision has led to thousands of people with disabilities being employed in sheltered workshops, where they are segregated from their communities and are paid subminimum wages. Nearly 250,000 people are legally paid less than the minimum wage—on average, less than $2 an hour.
Rooted in Rights, a project of Disability Rights Washington, produced a one-hour documentary on the sheltered workshops and the subminimum wages. It also features programs that have worked to get people with disabilities into competitive employment with fair wages. You can watch the trailer here.
We are finalizing plans to host screenings of the movie, followed by panel discussions, in cities around North Carolina. In the coming weeks, look for emails from us with details about screenings in Asheville, Raleigh, Winston-Salem, and other cities.

Click here for audio recordings of our newsletters, provided by Triangle Radio Reading Service.