Registration Open for 2017 Disability Advocacy Conference
Our annual Disability Advocacy Conference is less than three months away! Join us at the Friday Center in Chapel Hill on April 20 to learn about a wide range of issues affecting people with disabilities. Here are the titles of a few of the 17 breakout sessions:
From Applicant to Graduate: Your Rights and Tips for Success in Higher Education
Guardianship: Overused and Unnecessarily Restrictive
Equal Justice in the Courtroom for People with Disabilities—A Call to Action
Appeals and Remedies in Special Education Cases
Check out the whole list of sessions and get registered! You can also find about hotel reservations and sponsorship opportunities on our website.
FOR ATTORNEYS—The NC State Bar has approved the conference for up to 4.5 hours of CLE credit, including 1.0 ethics CLE credit.
Documentary in Raleigh, Winston-Salem, Asheville & Greenville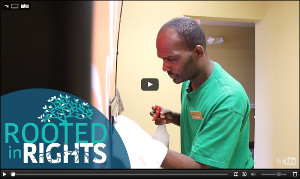 Hundreds of thousands of people with disabilities are employed in sheltered workshops, where they are segregated from their communities and are paid subminimum wages—on average, less than $2 an hour.
In March, we're hosting screenings of "Bottom Dollars," a hour-long documentary about sheltered workshops and the subminimum wage. We'll be in Raleigh, Winston-Salem, Asheville, and Greenville! Click here to get details and to RSVP.
Have Fun, Play Games, and Raise Money for Disability Rights NC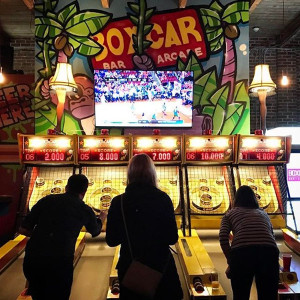 Boxcar Bar + Arcade is an awesome place to have a fun time. It has nearly 100 classic and modern arcade games, plus a full bar.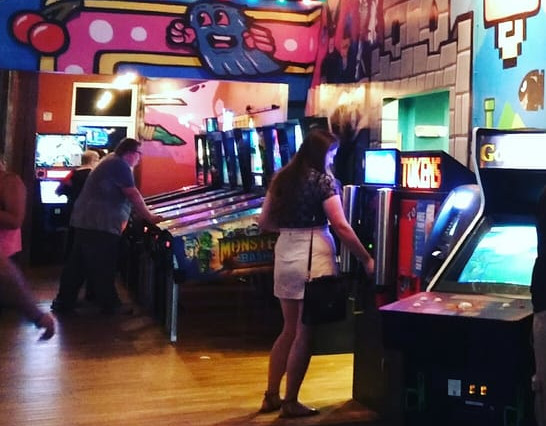 On Wednesday, February 15, Boxcar will donate 15% of its sales to Disability Rights NC! Please come out and support us. It's going to be lots of fun! Get directions and more information here.
Video #2 on Innovations Waiver Changes and Base Budgets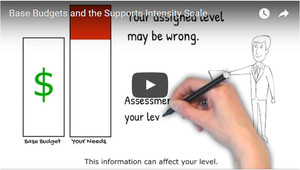 If you have the Innovations Waiver, you may have received a letter telling you about your new Base Budget. And you may wonder, where did that number come from?
This new video explains how your Base Budget was developed and what you can do if you think it needs to changed.
In addition, our new guide provides extensive information about the Innovations Waiver changes and how you can advocate for the services and supports you need.
Supreme Court Looks at Service Animals in Schools
The U.S. Supreme Court recently heard its first case about service animals in schools. The issue in the case is whether Elhena Fry was required to enforce her right to use a service animal in school by going through the special education dispute resolution system, or if she could go straight to state or federal court with her case. Disability Rights attorney Holly Stiles wrote about the issues in the case and the rights of people with service animals for EdNC.org.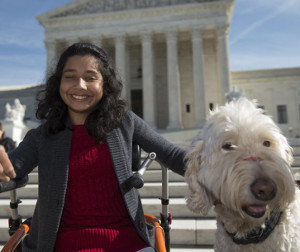 "The right of access for people accompanied by service animals was given considerable attention when the Department of Justice (DOJ) revised and updated the regulations implementing the ADA. The DOJ recognized that separating a person from his service animal for any period of time can be harmful for both. For example, a student whose service animal assists her with behavioral challenges may regress behaviorally without her service animal there to redirect her behavior or provide calming deep pressure therapy. Meanwhile, a highly trained service animal is sitting at home with limited opportunity to practice and perform its learned skills and tasks, which may lessen in quality and effectiveness."
Board Secretary Bryan Dooley on Why P&As Matter
Bryan Dooley, the wonderful secretary of our Board of Directors, authored this wonderful column for the Winston-Salem Journal. He wrote the piece in commemoration of the 45th anniversary of the Willowbrook exposé, which led to the creation of the Protection and Advocacy System. Here's an excerpt:
"Not that long ago, I would have been considered a good candidate for an institutional placement. I have a disability that affects my ability to communicate and necessitates that I use a power chair to get around. For generations, that would have meant being locked away somewhere. Disability Rights North Carolina works to keep people like me out of institutions and in the community instead."
Please read the whole piece, share with your networks, and thank Bryan if you see him!

Click here for audio recordings of our newsletters, provided by Triangle Radio Reading Service.