10th Anniversary Celebration and Awards Ceremony
This summer, Disability Rights NC will mark ten years as the state's protection and advocacy agency dedicated to fighting for the rights of people with disabilities to live independently with full access to the community and free from discrimination.
You are invited to celebrate our 10th anniversary with us on Thursday, July 27, at the Embassy Suites in Cary. Visit our website for details.
At the celebration, we will recognize our 2017 awards recipients!
The Adele Foschia Award for Lifetime Cross-Disability Advocacy recognizes individuals who have dedicated their lives to advocating for people with all types of disabilities.
This year's honoree is Beth Garriss Hardy, for her decades of work as an advocate for the rights of people with mental illness and for the education of children facing homelessness.
The Champions for Equality and Justice Awards recognize and honor advocates who have made outstanding efforts to increase the awareness of disability rights issues in North Carolina, to remove both physical and attitudinal barriers for people with disabilities, to create a more inclusive community, and to speak for and represent those who cannot represent themselves.
Our 2017 honorees are:
Matt Potter, for his work improving the lives of people with disabilities as an advocate, a leader, and a builder of community; and
Advocates for Medically Fragile Kids NC, for their passionate, personal, and highly effective advocacy to protect services for children with significant medical needs.
 
We hope you will join us for the celebration!
Thank you to everyone who attended our 2017 Disability Advocacy Conference on April 20. It was a great event! We have a slideshow of photos from the conference on our YouTube channel.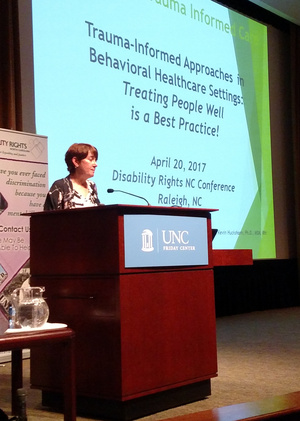 We heard from many of you that the keynote address by Dr. Kevin Ann Huckshorn impressed and moved you. Dr. Huckshorn explained that many people with disabilities or mental illness have experienced trauma, and that professionals in the medical, education, and justice fields need to implement a trauma-informed approach to care.
For some people in the audience, this was the first time they heard someone who understood and explained how traumatic experiences had affected them. For many professionals, her presentation opened their eyes to a new way of working with people with disabilities.
Mark your calendars for next year's conference – Thursday, April 19, 2018.
News from the NC General Assembly—and What is Crossover?
In each odd-numbered year, the NC General Assembly has its long session. At the beginning of the session, any bill can be introduced. But for most bills that do not affect the budget, there is a catch. They have to be approved by at least one chamber, the House or the Senate, by the crossover deadline to be eligible for consideration by the other chamber during the two-year legislative cycle.
Crossover was April 27 this year, so now we can see which bills are still eligible for consideration and which ones are gone until 2019. With more than 200 bills passed by one of the chambers, it was a busy week! Here are a few of the highlights.
Still standing:
H285, Suicide Prevention/Awareness School Personnel, would require training and referral protocols to be developed and implemented in every public school serving grades 6-12 to recognize and respond to suicidality. This is a step toward addressing the mental health needs of kids in public schools.
H483, Veteran Post-traumatic Stress/Mitigating Factor, would explicitly name a diagnosis of Post-traumatic Stress Disorder related to military service as a mitigating factor that may be considered in sentencing in criminal matters. This is consistent with our work to get the criminal justice system to take an approach to defendants with disabilities that makes sense.
Didn't make it:
H821, Guardianship Bill of Rights, would have clarified existing law to specifically name the rights retained by people under guardianship. We will continue to look for opportunities to include these concepts in other legislation.
Not subject to crossover:
H280, Juvenile Justice Reinvestment Act (Raise the Age), would end the practice of charging 16- and 17-year olds as adults for most crimes. Since many kids involved in the criminal justice system have disabilities, we need to stop saddling them with adult criminal records that make it harder to get jobs, education, and housing for years to come. Learn more about the campaign to Raise the Age at raisetheagenc.org.
Next we expect the Senate to turn its attention to writing the budget for the next two years. Stay tuned.
Listening Session on Changes to Medicaid
The NC Department of Health and Human Services wants to hear from you about upcoming changes to Medicaid and NC Health Choice. The State is in the process of restructuring its Medicaid plan into a managed care program.
Under managed care, private companies would get a monthly premium for each Medicaid enrollee and would "manage" their care by approving or denying requested services. As this plan moves forward, we must work to ensure it makes health care that meets the needs of North Carolinians with disabilities accessible. In particular, we would love to see folks speak up for integrating physical and behavioral health care, making sure we have an adequate network of providers across our state, and providing a robust array of services. Learn more about the plans so far here on NC DHHS's Medicaid Reform webpage.
NC DHHS is holding listening sessions in Greenville, Asheville, and Raleigh this month. Get details from this NC DHHS press release. Make your voice heard!
Job Opening: Intake Specialist
If you have ever called Disability Rights NC for help, you probably talked to one of our intake specialists. They collect information from callers, provide self-advocacy tools, and, when necessary, brief our attorneys on callers' needs.
Kady McDonald, who has been one of our outstanding intake specialists for 10 years, is retiring! We will miss her expertise and her commitment to helping people with disabilities.
So that means we're hiring. Find out more about the intake position on our Employment with Us page.

Click here for audio recordings of our newsletters, provided by Triangle Radio Reading Service.