Lawsuit Filed against State, NC DHHS
Disability Rights NC has filed a lawsuit against the State of North Carolina and the NC Department of Health and Human Services. Our suit alleges that the State has a fractured and inefficient system of care for people with intellectual and developmental disabilities (I/DD). Because of this poor system, thousands of people with I/DD are forced to live in institutions or are segregated from their families and communities.
The suit includes five plaintiffs – all people in North Carolina with I/DD who are subject to improper segregation or are at risk of segregation or institutionalization. The lawsuit asserts that their individual experiences demonstrate how DHHS has failed people with I/DD who face continual challenges to maintaining stable engagement in their communities.
Read the press release, news coverage of the lawsuit, and the complaint here.
Awards Ceremony and 10th Anniversary Celebration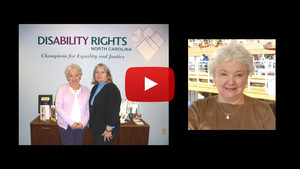 Check out our video previews of our 2017 award honorees!
This year, we are honoring Beth Garriss Hardy with our Adele Foschia Award for Lifetime Cross-Disability Advocacy. For decades, Beth has been a committed champion for people with mental illness, children experiencing the trauma of homelessness, and efforts to secure and expand disability rights.
Here are our Champions for Equality and Justice Award honorees: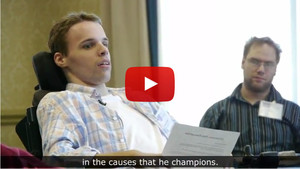 Matt Potter is a self-advocate and an advocate for others who uses his exceptional communication skills to amplify the perspectives of people with disabilities. Matt has served on numerous boards, and he is widely praised for both his ability to bring people together and his determination to hold providers accountable.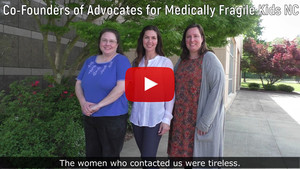 Advocates for Medically Fragile Kids NC is a group of true "warrior moms." When they saw that the services their medically fragile children rely on were under threat, they joined together and got to work. Thanks to their advocacy, thousands of families in North Carolina have access to essential services and medical care.
On Thursday, July 27, we will honor these amazing people, and we will celebrate Disability Rights NC's 10th anniversary as North Carolina's protection and advocacy agency!
The party and awards presentations will take place at the Embassy Suites in Cary. Click here to get details and to RSVP. There is no charge for this event, but space is limited to the first 200 people who RSVP.
We hope to see you there!
National Day of Action to #SaveMedicaid
Today, people all over the country are making their voices heard in the debate over Medicaid. They are attending rallies, contacting their lawmakers, and hitting social media to tell their stories and educate the public about the importance of Medicaid for people with disabilities.
The Disability Rights NC staff has joined the effort! And so can you. Find out how on the Center for Public Representation's website.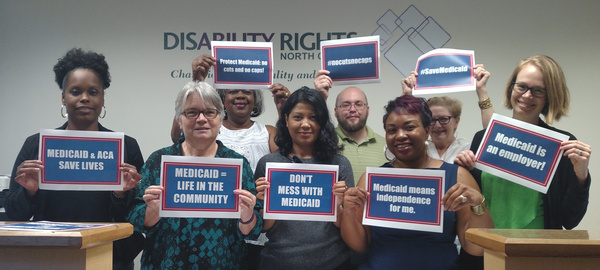 New Policy on Mental Health in Schools
Last month, the State Board of Education (SBE) approved a new policy to help improve mental health services for public school students in North Carolina. Research shows that nearly 1 in 5 students will experience a mental health disorder in any given year in North Carolina. Of those students, 75 percent — or nearly 227,000 students — will NOT receive treatment. In addition, the total number of youth suicides in North Carolina has doubled in recent years.
In this piece for EdNC.org, Virginia Fogg, the head of Disability Rights NC's education team, explains the policy.
"The cornerstone of the new policy is ensuring adequate mental health services are available to all public school students, regardless of where they live in our state. Many rural areas in North Carolina lack local mental health services. The new policy addresses that deficit by requiring each school system to 'develop and implement a plan for assessing and improving upon the effectiveness of existing supports for the mental health and substance use needs of its student population.'…
The success of the policy hinges on another key requirement: training for all school personnel in mental health and substance abuse awareness within the first six months of employment, at no cost to school systems."
Read Virginia's article to learn more about the policy and find out why it is so important for the success and well-being of North Carolina's children.
North Carolina is the only state that automatically prosecutes 16- and 17-year-olds as adults, no matter how minor the offense. We have been working to pass the Juvenile Justice Reinvestment Act (HB 280), which cleared the NC House last month with an impressive 104 to 8 vote!
This legislation would keep all but upper-level felonies and traffic offenses in the juvenile system. This is especially important for kids with disabilities, who make up the vast majority of youth involved with the justice system. Little good comes from trying these kids as adults, incarcerating them with adults, and saddling them with life-long adult criminal records. When they go through the juvenile system instead, they get the rehabilitation they need, are actually held more accountable for their actions, and are less likely to commit future crimes.
The bill now goes to the Senate, which has passed its own "misdemeanor only" version of Raise the Age. We will continue to work with our coalition partners to push for the passage of the strongest Raise the Age bill possible. The data is clear that when we keep more kids in the juvenile system, we produce better life outcomes, safer communities, and net economic benefits to the state.

Click here for audio recordings of our newsletters, provided by Triangle Radio Reading Service.