Join Us for Our Birthday Party!
Our 10th anniversary celebration is coming up fast! RSVP today to join us on July 27 as we mark our first decade as North Carolina's Protection and Advocacy (P&A) agency. (What is a P&A? Watch this video to find out.)
At the event, we also will recognize our 2017 awards recipients for their contributions to improving the lives of people with disabilities. (Check out our preview videos of the award presentations here.)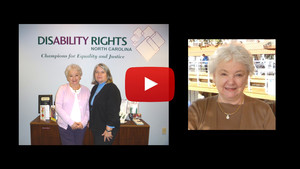 Beth Garriss Hardy is this year's recipient of the Adele Foschia Award for Lifetime Cross-Disability Advocacy. Professionally, Beth has spent her adult life working to improve education for children with disabilities and those who have experienced the trauma of homelessness. Through her extensive volunteer work, she has fought for the rights of people with mental illness and intellectual disabilities.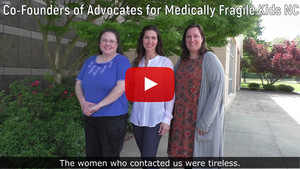 This year we have two Champions for Equality and Justice recipients. Advocates for Medically Fragile Kids NC is a powerful organization of "warrior moms" who successfully fought to stop a change to state policies that would have robbed their children of essential services. And their battle continues today at the state and national levels.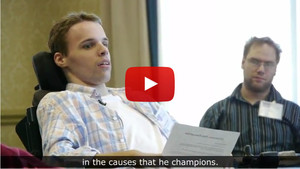 Matt Potter turned his skills of self-advocacy into a mission to protect and expand the rights of all people with disabilities. He has testified at the state legislature, served on numerous boards, and trained young people with disabilities to advocate for themselves and others.
This event is free of charge, but space is limited to 200 people, so everyone must register here to attend. We hope to see you at our party on July 27!
Targets Survey Open for 3 More Weeks
People with disabilities in North Carolina face many barriers to full equality and justice. However, Disability Rights NC does not have the resources necessary to tackle them all at once. That is why we create Targets, which provide the structure for how we spend our limited resources.
We want to make sure we focus our resources on the issues that members of the disability community believe are important. We are asking you to complete this survey about our Targets because your input will help us make better decisions about our work in the coming fiscal year.
Find the survey here. It should take only about five minutes to complete.
Please forward the survey to your friends, family, co-workers, and anyone else who is interested in protecting the rights of people with disabilities living in North Carolina. The survey closes at 6:00 pm on August 4.
The Conservative Case for Saving Medicaid

Providing services to people with disabilities is the fiscally responsible thing to do. That's the argument our policy analyst Matt Herr laid out in this piece for The Hill. Matt makes the conservative case for preserving Home and Community-Based Services (HCBS), which provide support to people with mental illness, intellectual and developmental disabilities, and traumatic brain injury.

By keeping people in their communities, HCBS also promote independence and self-reliance. People who stay in their communities contribute to their communities. They live fuller, freer, more productive lives. They are more likely to get and maintain employment, and pay taxes as a result. Without access to HCBS, more Americans will face a life of purgatory in costly state-managed institutions — where the government can decide where you will live, when you eat, and what you do in your spare time.

Read Matt's entire piece here – and share it with your social network!
Important Listening Sessions on Services
The NC Department of Health and Human Services is holding listening sessions on services for behavioral health, developmental disabilities, and substance use disorders. This is your chance to tell officials about your experiences regarding the quality of and access to services.
See this flyer for dates and times of the listening sessions. If you can't make it to a session, the flyer also tells you how to submit your input by phone, mail, or e-mail.
We're hiring! Disability Rights NC is seeking a staff attorney with a minimum of three years of litigation experience and an interest in health law. This attorney will engage in high-impact advocacy and systemic litigation to advance the civil rights of individuals with disabilities. Check out the job description here.

Click here for audio recordings of our newsletters, provided by Triangle Radio Reading Service.