Federal Lawsuit Charges Carowinds with Discrimination
Disability Rights NC filed a federal lawsuit alleging that the Carowinds Amusement Park in Charlotte discriminates against people with disabilities.
Plaintiff Matthew Aldridge and his wife purchased season tickets for their family in 2016, and they were looking forward to multiple trips to Carowinds throughout the year. When they visited Carowinds, Mr. Aldridge and his two children were told they could only enjoy ten of the 50-plus rides in the amusement park because they each have at-the-knee amputations.
Individuals with disabilities, like the Aldridges, have a federally-protected right to enjoy every ride offered at Carowinds unless there is a legitimate health or safety risk. Carowinds did not know which rides actually presented a health or safety risk to the Aldridges. Over the course of their visits, Carowinds told the Aldridges they could enjoy 25 rides, then as many as 30 rides, and finally only ten of the rides in the amusement park. Carowinds' unjustified exclusion of the Aldridges from rides they can safely ride is discriminatory.
Going to Carowinds is a summer tradition for many in the Carolinas. We cannot permit people with disabilities to be left out of the fun based on uninformed, unnecessary concerns for their safety.
Register Now for Our 2018 Disability Advocacy Conference
The staff of Disability Rights NC will host its fifth annual conference on Thursday, April 19, ​2018 at The Friday Center in Chapel Hill.
Check out the conference webpage to see the full schedule (including lots of new breakout sessions and a screening of the documentary, Resilience), learn about our keynote speaker, register to attend, or learn about scholarship opportunities. Stay tuned for short videos from our speakers!

Early bird registration rates are effective until February 19, 2018.

Attorneys licensed in North Carolina can receive up to 5 hours of CLE credit, including 1 hour SA/MH (approval pending from the NC State Bar).
Judge Allows Lawsuit Against State to Go Forward
In May, Disability Rights NC filed a lawsuit against the State of North Carolina and the NC Department of Health and Human Services. The suit alleges that the State's fractured and inefficient system of care is forcing many people with intellectual and/or developmental disabilities (I/DD) to live in institutions, and thousands more to be segregated or placed at risk for institutionalization unnecessarily.
Last week, we received good news about the case! Superior Court Judge Allen Baddour rejected the State's motion to dismiss the case. That means the case will go forward, and people with disabilities in North Carolina will get their day in court.
The lawsuit identifies significant problems with North Carolina's system of services that rob people with I/DD of their right to live and participate in their communities by:
Relying on institutional placements by failing to provide people with I/DD with the services they need to live in their communities;
Inadequately planning to transition individuals with I/DD from institutional to community settings by failing to identify those who are ready for more independent living;
Identifying an insufficient number of providers to serve the needs of individuals with I/DD in the community;
Failing to provide for reliable long-term services and supports stemming from frequent changes and reductions in services, causing instability and making it harder for people with I/DD to remain in their communities; and
Maintaining a financing system that provides financial incentives to contractors who prioritize lowering costs over providing necessary services.
You can read more about the lawsuit on our website. We'll keep you updated as the case develops.
Client Story: Stacey Gets Her Competency Back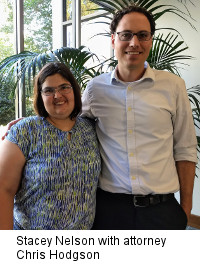 The State of North Carolina declared Stacey Nelson incompetent and appointed a public guardian to make decisions for her after an accidental overdose of prescription drugs in 2009. She talked to her guardian repeatedly about getting her competency reinstated. The guardian failed to tell Stacey that she had the right to ask the clerk of court to restore her of competency, and the guardian refused to help Stacey move forward with her request.
In May 2015, when she was seven months pregnant, Stacey was the victim of domestic violence at the hands of her now-former husband. Despite the incompetency declaration, Stacey annulled her marriage and secured a domestic violence protection order – all without any assistance from her guardian.
But then she became worried about her ability to protect her son. "My ex, with his record of domestic violence prior to me and with me… and then with me being incompetent, if the state said I was unfit to take care for him, they could just come in and take him out at any time," Stacey explained.
Unable to convince her guardian to move ahead with restoration, Stacey called Disability Rights NC. Attorneys Chris Hodgson and Holly Stiles took her case.
"They helped me with getting everything figured out, what needed to be done legally," Stacey said. "We got all the medical records and everything. I had doctors write character letters and everything. And all my doctors were for me for having my competency."
In March 2017, Stacey had a hearing before a clerk of court on her motion for restoration. When she explained to the judge how she had gotten out of her marriage and taken action to protect herself and her son, the judge was impressed. Stacey had her competency restored that same day.
"I don't believe without Chris or Holly that I could have done it on my own," Stacey said.
Disability Rights NC receives more calls from people who want to restore their competency than our staff can actively handle. For that reason, we created a pro bono volunteer attorney program. If you are an attorney and are interested in helping people like Stacey regain their competency, please contact Elaine Whitford at 919-856-2195. We provide training and technical assistance to attorneys who agree to handle restoration of competency cases pro bono.
Legal Matters Podcast on Accessibility When Shopping
Holly Stiles, a senior attorney at Disability Rights NC, recently appeared on Legal Matters, a podcast from the Triangle Radio Reading Service. Holly talked about accessibility at retail stores, and she addressed two popular myths about the Americans with Disabilities Act. (Spoiler: There is no "grandfather clause" that allows a business to fail to comply with the ADA.) Check out the podcast!

Click here for audio recordings of our newsletters, provided by Triangle Radio Reading Service.